Health For All
AHIP 2023: Advancing Health For All
06 July 2023
Wrapping up AHIP 2023
Health For All Initiative Kicks Off With $390K in Donations
This year's America's Health Insurance Plans (AHIP) conference, June 13-15, was an important one for our local Portland community – not only was the gathering of healthcare professionals and community members held in the Rose City, but it also marked the kickoff of Providence Health Plan's Health For All initiative. As a community of healthcare insurers, providers, companies, and organizations, we all came together to discuss innovating healthcare and continue our commitment to providing equitable and high-quality care to everyone in our community.
Throughout the week, conference goers and Providence Health Plan (PHP) caregivers visited the PHP booth to participate in activities highlighting the Health For All initiative. PHP leaders Mel Topp, Executive Director of Care Management, Dr. Paul Giger, Medical Director of Behavioral Health, and Dr. Robert Gluckman, Chief Medical Officer, participated in panel sessions speaking on topics ranging from addressing food insecurity to behavioral health and value-based care.
And to close out an incredible week full of conversations and actions to drive change in the healthcare industry, we announced our partnerships with and contributions to three local Portland organizations helping the community: the Oregon Food Bank, North by Northeast Community Health Center, and Central City Concern. Read on to learn more.
Health For All
AHIP 2023 marked the beginning of partnerships with the Oregon Food Bank, North by Northeast Community Health Center, and Central City Concern, three Portland organizations devoted to caring for the community with equitable access to nutritious food, primary care services and health education, and housing needs. At events throughout the week and a press event hosted by the Oregon Food Bank, we surprised all three organizations with total donations of $390,000. In addition, PHP caregivers pledged 1,000 hours of community service to assist the Oregon Food Bank. You can catch up on coverage of these announcements from KGW and KPTV.
"We're thrilled – I would say too that the 1,000 hours [of community service] is a deeply meaningful contribution," said Oregon Food Bank's Nathan Harris, Director of Community Philanthropy, upon receiving the check on behalf of the organization.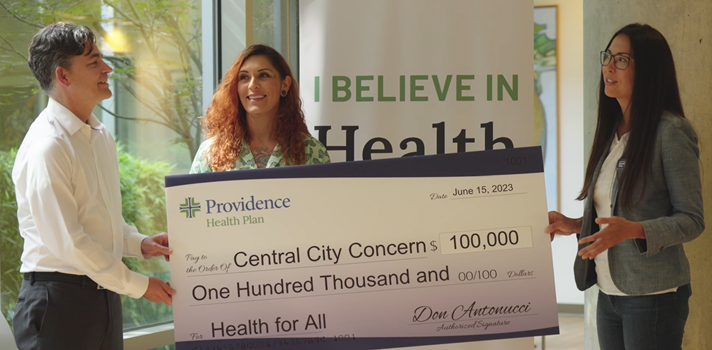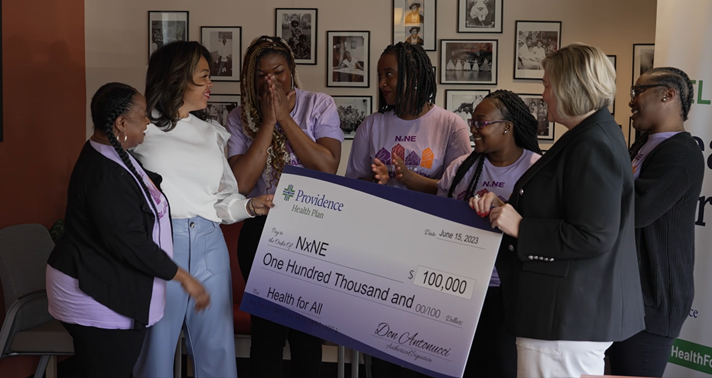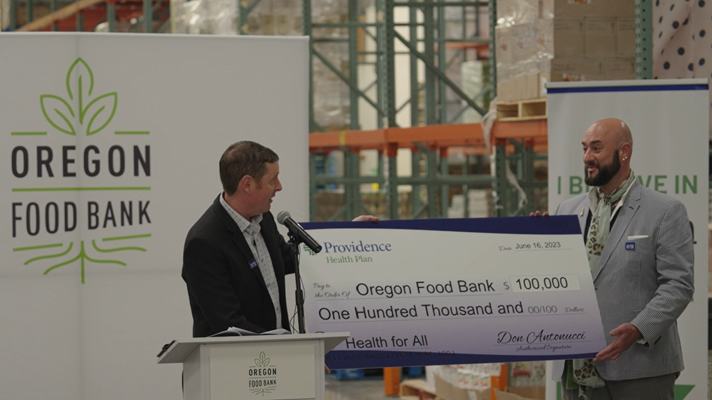 The conference was also packed with activities to support Health For All: inviting attendees to engage in giving back by making donations with giving tokens, sharing personal connections to the initiative, packing lunches for hungry Portland residents, training on how to save the life of someone experiencing an opioid overdose with Narcan, and more.
Check out some attendee reactions below!
"I felt welcomed, inspired, and prepared to learn. The Health for All message made a big splash and was very well received throughout the conference. The activities put on by PHP were a great way to engage, and I loved the tai chi experience – so engaging and relaxing!" – Taj Tinsley, Manager of Marketing Operations, PHP
"This was one of the coolest things I've seen at an industry conference. Cheers to PHP!" – Nathan Hayes, VP of Sales & Marketing, Abacus Insights
"Providence Health Plan for the win. Making sack lunches to be passed out to the homeless and donating $50 to charity for each sack lunch made." – David Ollila, Principal, X BY 2
"I felt so proud attending AHIP 2023 as a Providence Health Plan caregiver. PHP modeled its commitment to Health for All by integrating a myriad of meaningful activities at our booth, including my favorite, packing sack lunches for Blanchet House. Conference attendees repeatedly complimented the community focus of our booth and the opportunity for them to contribute to our mission in real world ways. I kept hearing, 'Wow, Providence really has a presence at this conference!'—Yes, we certainly did—in the most impactful ways." – Melissa Kenney, Manager of Vendor Contracts, PHP
"Providence Health Plan had a stunning island booth, embracing that we were all on their home turf for 3 days. It was super interactive, with activities, refreshments, and sessions all tied back to their Health For All initiative." – Rachel Spiro, Marketing Manager at Cohere Health
And this is only the beginning – throughout the next year, we'll be showing up for our partners and community members in many ways to keep the momentum going. Stay up to date on the Health For All initiative here.
Joining the Conversation
PHP leaders also participated in panel discussions at AHIP highlighting how the healthcare industry can help advance high-quality, compassionate healthcare for those experiencing food insecurity, behavioral health challenges, and more.
We're proud to not only have contributed to conversations about the life-changing advancements happening in healthcare, but to have taken action to show up for the Portland community during AHIP 2023.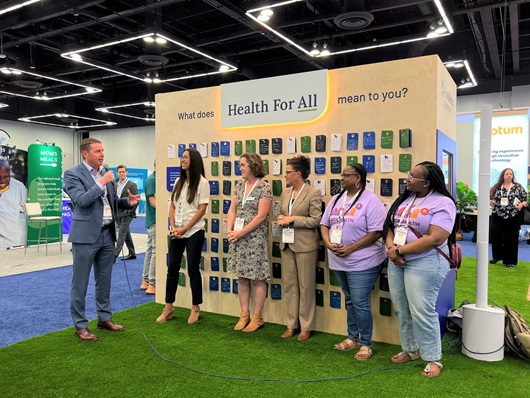 We'd like to extend gratitude to our partners at the Oregon Food Bank, North by Northeast Community Health Center, and Central City Concern for joining us this year on the journey to remove cultural and economic barriers to health and bringing needed support to the communities we serve. Stay engaged with the Health For All website for what's next.
Health for All starts with all of us. Share what Health For All means to you on social media by adding #PHPHealthForAll and tagging us on LinkedIn, Twitter, Instagram, and Facebook.
Need help?
Hey!
You are now leaving the Providence Medicare Advantage Plans website. Are you sure that's what you'd like to do?
No, I'll stay
Yes, I'm leaving