July 12, 2021
PHP Caregiver Spotlight: Alan Fabela
This month's caregiver spotlight features Alan Fabela, Technical Specialist at Providence Health Plan (PHP)
Alan Fabela has been with PHP for nearly three years and currently works as a technical specialist.
Alan attributes his journey in healthcare to a chance encounter at his previous job as a shipping receiving specialist at a warehouse. As Alan recalls, a customer came in with a giant hole in his car's radiator, making it nearly impossible to drive. The customer, a manager at Virginia Garcia Memorial Health Center, needed a ride to work while the vehicle was getting repaired, so Alan gladly offered to give him a lift.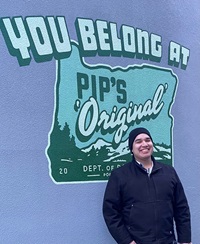 Alan and the customer began to talk during the car ride, which ended with the customer mentioning that Alan should consider applying for an open position at the Health Center. After mulling it over for a few days, Alan applied to the job, which resulted in an interview and then an offer to work as a front desk receptionist. Alan excelled in the role and after a short period, switched roles and became a referral coordinator for the dental clinic at Virginia Garcia Memorial Health Center. Alan's time in the medical field prepared him for the insurance industry and led him to a career with Providence Health Plan (PHP).
When Alan first joined PHP he served as a customer care coordinator and worked closely with members where he would answer questions about their plans. Alan's experience working with members has come in handy for his current role as a technical specialist. As part of his day-to-day responsibilities, Alan analyzes recordings of calls between PHP caregivers and members, and then provides caregivers with feedback for future interactions. Alan's favorite part of his job is being able to provide words of encouragement to his fellow caregivers, especially when he can give them praise for how they handled various situations.
Alan considers himself to be a people person who is driven by the interactions with fellow caregivers and PHP members. Each day, Alan's goal is to have a positive impact on everyone he encounters, whether it is motivating his colleagues or assisting members, "Helping members, especially those asking about Medicare, is complex and can be confusing. However, hearing the gratitude and relief when you are on the same page is really rewarding."
Alan's can-do attitude comes from lessons that his father taught him, a man who Alan says is his greatest role model. Alan believes that he would not be the person he is today without his father, as he pushed Alan to handle responsibilities from start to finish and giving them 100% of his effort. The two of them talk every day and Alan considers them to be "best buds."
Outside of work, Alan volunteers in the local Oregon community for Adelante Mujeres, an organization he learned about from his former pre-school teacher. Adelante Mujeres provides all-inclusive education and empowerment opportunities to low-income Latina women and their families. The organization holds classes and seminars for women to earn their GEDs, while also offering English lessons so the women can advance their vocabulary and language skills. In the summer, Alan volunteers as a girls' soccer or flag football coach for the organization.