Need help?
Your Open Enrollment season is here!
Providence is here to help you make the most of your health care coverage. The virtual benefits fair helps you learn about your benefit options from the comfort of your home. Below you will find everything you need to make the most of your chosen plan this year.
Watch this presentation to help you pick the best plan to meet your needs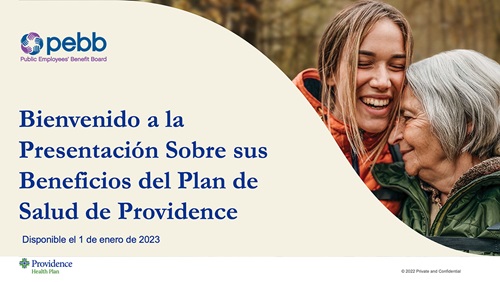 Welcome to Providence Health Plan's benefits presentation. This presentation will guide you through the benefits you receive through your Providence Health Plan.
Health Engagement Model (HEM)
Participating in HEM means you agree to take a personal health assessment. For participating you may be eligible for a monthly incentive and a lower deductible on your medical plan.
With the assessment you can take an active role in your health. You'll identify any potential health risks and then you can take action to reduce them. It's recommended to share the results of the assessment with your primary care provider, so that they can better serve your needs.
Learn more
We're here for you
We're here for you if you need any assistance or have questions about enrollment or your benefits. Don't hesitate to reach out. We're happy to answer your questions or to assist you in finding the resources you need. Contact Customer Service at 503-574-7500 or 800-878-4445 (TTY: 711), Monday through Friday, 8 a.m. to 5 p.m. (Pacific Time).