March 23, 2021
PHP Caregiver Spotlight: Cherille Roboca
This month's caregiver spotlight features Cherille Roboca, a behavioral health care navigator at Providence Health Plan (PHP).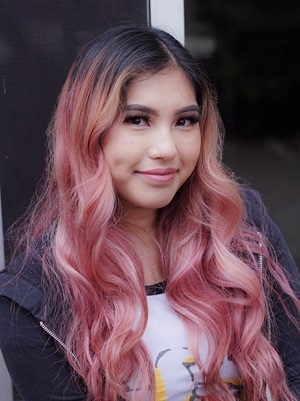 Cherille Roboca is a behavioral health care navigator for PHP. In her role, she works on the frontlines of the member support team alongside case management workers, social workers, and fellow navigators, to ensure that members feel supported in making decisions about their health, and easing any worries that members may have.
Cherille's passion for health care and helping people began while studying community health education and aging services at Portland State University. Following graduation in 2018, Cherille joined PHP as a customer care coordinator before moving into behavioral health care. Cherille believes that PHP has empowered her to do what she enjoys most: caring for members. Cherille is especially moved by the daily interactions she has with members, knowing that her guidance helps them navigate PHP's offerings, "What's most important to me is knowing that I'm impacting members and showing them that they are cared for, no matter how difficult or challenging their circumstances may be."
PHP's focus on members is a value that Cherille feels strongly about and is something that she wants members to be aware of, "PHP employees are called caregivers because we're really trying to care for our members. We try to live up to our values and Mission the best we can, but we ultimately work here and stay here because we believe in the core values the company operates on."
Cherille often draws inspiration from her mother and her sister, the two women in her life who have always been there for her. Cherille's mother immigrated to the U.S. from the Philippines and is a full-time caregiver to Cherille's grandmother. Cherille has been moved by her mother's selflessness, and it has humbled her to try her hardest to continue to make her family proud.
Cherille has also been greatly influenced by her sister's journey as first-generation Filipina-American to become the first doctor in her family. Seeing her sister's hard work and knowing all the effort she put in to achieve her goal has made Cherille even more motivated to pursue her own hopes and dreams.
In addition to viewing her family as a source of inspiration, Cherille also lives by the advice given to her by a former manager, "The only thing worse than being told no, is denying yourself the opportunity by never asking the question in the first place. If you come up with an idea that you'd like to do in a professional or personal setting you'll never know what is out there unless you ask."
As a local Portlander, Cherille gives back to her community in a variety of ways. Traditionally, Cherille has shopped locally, participated in food drives, or gone door-to-door collecting donations for organizations. As a result of the pandemic, Cherille has taken on a more virtual role as an activist within the community. She shares information on resources on her social media channels and sets aside a portion of her paycheck to donate to local charities and causes she cares about.
Outside of work, Cherille enjoys watching The Office, playing video games, and recreating meals she eats at her favorite restaurants. Throughout the COVID-19 pandemic, Cherille has supported local establishments by ordering take out from local restaurants when possible.