May 20, 2022
PHP Caregiver Spotlight: Bintu Foday Kemokai
"In Sierra Leone, we believe that it takes a village to raise a child and to build a community. Although I am in Oregon now, I find myself part of a new village. I really believe that by being part of a village, you have a support system."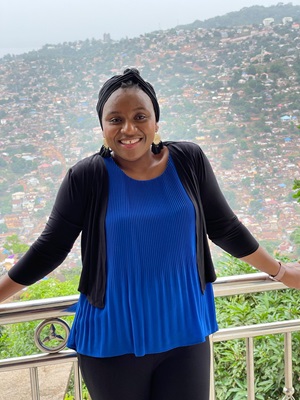 Growing up in Sierra Leone, Bintu Foday Kemokai understood the significance of being part of a village and the immeasurable support that it provided to her and her fellow villagers. As a Providence Health Plan (PHP) caregiver, Bintu recently explained the sense of community she feels within and outside of the organization, and how it has inspired her to give back to others.
Bintu is Risk Services Consultant within the regulatory licensing group, where she supports PHP and Providence St. Joseph Health in entering new markets. In her role, she collaborates across various teams to ensure the organizations have finalized the requirements needed for a new market entry. A self-described "people person" Bintu enjoys her role and being able to meet so many fellow caregivers. "I'm blessed because I'm able to collaborate with individuals across all levels. I am working with leaders within the organization who are supportive and appreciative of the work we do as caregivers. That is part of the reason why I love working for PHP, the leadership is human and treats everyone with kindness."
A caregiver since March 2021, Bintu initially became familiar with PHP when she moved to Oregon from London in 2017. However, it wasn't until she gave birth to her daughter at Providence St. Vincent's hospital that she was drawn to the organization. "When I had my daughter at Providence St. Vincent's, I saw the words of the Mission on signage around the hospital but could also sense it all around me. The hospital staff truly lived and breathed the Mission, and I could feel it in my interactions with them and through the compassion and empathy they showed me."
Her experience at Providence St. Vincent's combined with her desire to have a positive influence on others ultimately drove Bintu to apply for a role with PHP. "Growing up in Sierra Leone, I've seen the damage that poor medical care and a lack of health insurance can have on people. Working in health care was a personal choice because I wanted to make a difference. I knew I wanted to be with an organization where my work would be valued and would have a positive impact on others." Bintu takes the Mission of Providence to heart as part of her daily role, knowing that her work impacts current and even future members. "I think our Promise, 'know me, care for me, ease my way' is so important. PHP always strives to be better and put members first. We want members to feel at ease and to assure them that we understand them. We want to ease their way through their health care journey."
Bintu is extremely active in her community and volunteers for multiple organizations and causes. In honor of International Women's Day, Bintu recently raised money to support small female groups who are part of the Maasai tribe in Tanzania. She also helps to organize appreciation days for the teachers at her daughters' schools and has volunteered for "Friends of the Children," a Portland-based charity that coordinates holiday toy drives and back-to-school supply drives for underprivileged children. Bintu is involved with various civic activities for the Beaverton City Council and is currently the chair of the advisory committee for the Beaverton Committee for Community Involvement (BCCI). Additionally, Bintu hosts international travelers for dinner through her connection with "World Oregon," an organization that encourages deeper global understanding between Oregonians and the rest of the world.
For Bintu, an important aspect of her life is her ability to give back to her community. "I believe in volunteering, and I love giving back to my community. It's important because I want my children to learn about the importance of community. In Sierra Leone, we believe that it takes a village to raise a child and to build a community. Although I am in Oregon now, I find myself part of a new village. I really believe that by being part of a village, you have a support system."
In fact, one of Bintu's proudest moments was giving back to her old village when she returned to Sierra Leone for the holidays. "When I was a child, there was a nurse in my neighborhood who would give out candy to the children every Christmas and we loved it. When I knew I was going to be in Sierra Leone for Christmas, I was inspired to host a big Christmas party for the children in the neighborhood. I catered food and drinks, brought candy and small gifts and a coordinated a musical set. I was expecting a few dozen children to show up. However, nearly 250 children from the village and nearby areas attended! It was such a beautiful moment to see the joy and laughter on the children's faces and to see them having so much fun. I was so proud to have my children there and for them to appreciate that celebration and what it meant to the villagers."